New Responsive Website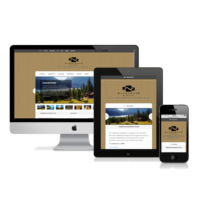 We are delighted to introduce this new, fully-responsive website for The Residences at Wing Creek Resort. We have been hard at work on this brand new, responsive website design for the past several months in order to make it easier for you to find homes for sale on Kootenay Lake and to view this eco-friendly real estate development easily on your computer, tablet or smartphone.
Positive feedback
The biggest challenge for us was giving up our previous website. Not because we resist change, but simply because everyone told us how much they loved it! However, while it looked good on computers, tablets and smartphones, it was not actually responsive. And it was time for a facelift. So, we bit the bullet and created a brand new website just for The Residences at Wing Creek, totally separate from our Wing Creek Resort website. Prospective owners can now easily focus their attention on the features and benefits of this unique real estate development on the shore of beautiful Kootenay Lake.
Easy to use, fresh look from HoffPort
HoffPort, a talented Kelowna-based marketing company has  created a fresh, clean design to showcase The Residences at Wing Creek and help you get a sense of what you can expect when you come out to design your dream home here. HoffPort also spearheaded the content creation, organizing it into simple, intuitive sections to help you easily find what you are looking for, whether it's floorplan ideas or information about the many benefits of strata living. HoffPort custom-designed our new website in the same way we will custom-design your beautiful new home. Our new website also makes it easy for us to keep the information and photographs updated and to post a new blog whenever we have news to share.
Breathtaking property and area photos
We have also sorted through many spectacular photographs in an effort to select the best ones to show you.  We have many years of incredible photographs from all seasons to try to show you what Wing Creek, Kootenay Lake and the Kaslo area are like. But, as beautiful as they are, the photos simply cannot do the panoramic views justice. So we invite you to come for a visit to see everything for yourself. Seventy per cent of people who relocate to this area come as tourists for the very first time, so your first visit may in fact change your life!
Come for a day, stay for a lifetime!